The CTC Configurator allows users to influence what is generated by configuring features, setting options, customizing Standard Controls, adding Custom Controls and substituting controls.

Any configurable item can be specified at any level within the hierarchy of Generator, Application, Bundle, Language, Ispec and Field. For example, this allows the user to configure the look and feel of all TextBox controls on all ispecs within a bundle or when necessary, configure the TextBox for a specific field either within a specific ispec or for all ispecs where the field appears.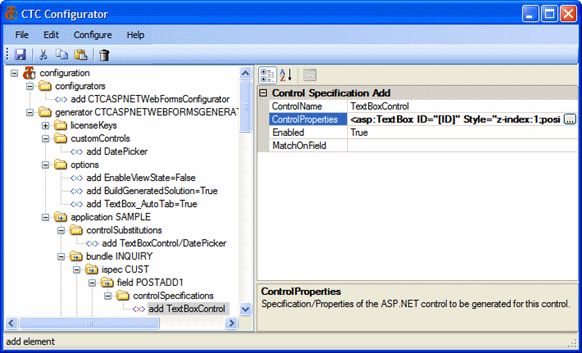 Sample screen shot from the CTC Configurator
The CTC Configurator is a .NET desktop application installed on the developer workstation. The user interface provides easy to use dropdown values and special editors for configuring controls and setting properties.
For further details on the CTC Configurator see the
Online Documentation
.